HomeGoods
as we all know has random things at all times. I think that is why I like it so much. You never know what you might find or where it came from. Here lately items from Z Gallerie have been popping up. Last night as I quickly ran through, I spotted the high gloss white Angelique Mirror.
From
Z Gallerie website
: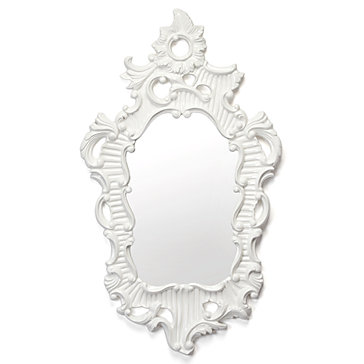 Angelique Mirror - White
Dimensions:
Inside Mirror: 18W x 29H
Overall: 35W x 60H x 2D
Molding: 2D
Package: 65W x 40H X 5D
Weight:
Mirror: 26.5 lb
Horchow
also carries the same mirror at $494.50. HomeGoods price $150.00! I decided to give her a try because there was only one and we all know how that goes if you don't buy it when you see it. She is quite tall so finding the perfect spot may be a challenge but assuming I do, I'm torn about the look. I like the modern spin on the classic baroque style but is she fabulous or cartoonish?......I'm on the fence. She may be an option for my daughter's room or for a lucky client. What are your thoughts?